Full Time
This position has been filled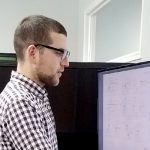 West Coast Code Consultants, Inc.
JOB DESCRIPTION:
West Coast Code Consultants, Inc. (WC-3) is currently seeking an experienced Fire & Life Safety Professional. While reference will be given to licensed Fire Protection Engineers, certified and experienced fire plans examiners are also encouraged to apply. The intent of this position is to assist in performing detailed fire and life safety plan reviews in additions to reviews of fire protection systems. This is not a design position, but the focus will be on reviewing others designs to ensure that the minimum requirements of the building and fire codes, as well as the referenced NFPA standards, have been met. Deficiencies that are found are communicated to permit applicants, design team members, and to the local jurisdiction or fire district. Selected individuals may be responsible for managing other fire prevention staff.
This is an open position that can be filled anywhere in the United States, while reporting to, and receiving support from, management in our Sandy Regional Office in Utah.
ESSENTIAL DUTIES: 
Performs detailed fire and life safety plan reviews including fire access, water supplies, types of construction, allowable heights, and areas, means of egress, and more.
Performs detailed reviews of fire protection systems such as fire sprinklers, alarms, standpipes, fire pumps, and more.
Coordinate with jurisdictions, fire districts, and permit applicants to ensure that complete permit submittal documents are provided for review.
Provide clear and concise plan review comments in written form.
Communicate and collaborate with permit applicants, design team members, contractors, and clients to ensure a successful project.
Must be familiar with the IFC and IBC, NFPA 72, and NFPA 13.
Make special efforts to promote good will in the office.
Perform other related duties as assigned.
REQUIREMENTS: 
An International Code Council (ICC) certification as a Fire Plans Examiner or Fire Marshal, National Fire Protection Association (NFPA) certification as a Certified Fire Plans Examiner or Certified Fire Protection Specialist, or preferably a valid license as a Fire Protection Engineer.
A bachelor's degree in fire protection engineering, electrical engineering, mechanical engineering, or closely related field is preferred.
Must have basic knowledge of electronics and Microsoft Office Suite and should have proficient writing skills.
SALARY:
$40 – $50 / Hour, Depends on Experience
TRADITIONAL BENEFITS:
Medical Insurance Plans
Dental & Vision Reimbursement
Long Term Disability Insurance
Employer Paid Life Insurance
Voluntary Flexible Spending Account (FSA)
Voluntary Health Savings Account (HSA)
401(k) Retirement Plan with 6% Employer Matching
Discretionary 401(k) Profit Sharing Contribution
Discretionary Bonus Program
WORK-LIFE BENEFITS:
15 Days Paid Time Off (PTO)
8 Full-Day Paid Holidays
2 Half-Day Paid Holidays
Family Medical Leave
Health & Wellness Reimbursement
Flexible Work Schedules when Feasible
Business Casual Dress Environment
West Coast Code Consultants, Inc. (WC3) provides equal employment opportunities to all employees and applicants for employment and prohibits discrimination and harassment of any type without regard to race, color, religion, age, sex, national origin, disability status, genetics, protected veteran status, sexual orientation, gender identity or expression, or any other characteristic protected by federal, state, or local laws. This policy applies to all terms and conditions of employment, including recruiting, hiring, placement, promotion, termination, layoff, recall, transfer, leaves of absence, compensation, and training.