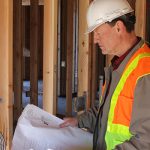 West Coast Code Consultants, Inc.
JOB DESCRIPTION:
Building Inspector III is an experienced inspection level position. Position includes field inspections of residential and commercial construction projects. Must be comfortable in all aspects of construction. May be lead inspector for larger commercial projects. Will be required to write inspection reports for field inspections. Communicating with city building departments and with the public. It's expected that continual training will take place and encourage to continue to receive more ICC certifications than specified in the minimum qualifications. This position is looking to be filled remotely by an inspector in Northern Nevada (Reno-Tahoe region) and reporting to Management operating from the Layton Regional Office.
MINIMUM QUALIFICATIONS:
Must have at least 8 ICC certifications and be a certified combination inspector for both commercial and residential (i.e. Building, Mechanical, Plumbing, and Electrical).
Must have a minimum of 3 years' experience performing building inspections.
Must have basic knowledge of electronics and Microsoft Office Suite.
Must have valid driver's license.
JOB DUTIES:
Be able to read plans and other construction documents.
Complete field inspections, both on commercial and residence projects for all phases of construction.
Write inspection reports, both paper copies and electronically with lab tops and tablets.
Communicate deficiencies with owners and builders. Be able to navigate code books.
Communicate with permit techs, other inspectors, and building officials for jurisdictions. Need to be adaptable to jurisdiction requirements of reporting and communicating.
Most work will be outdoors in the elements. Work will take place in all extremes of weather.
Must be able to lift, climb, jump, crawl. Tall heights are often required. Job sites are often dangerous with many hazards. Special attention and care is required.
Job requires the ability to drive.
May be asked to help with reviewing construction plans for code compliance.
Obtain and update state and local licenses and certifications as needed.
Make special efforts to promote good will in the office.
Performs other related duties as assigned.
SALARY:
$25 – $35 an hour
TRADITIONAL BENEFITS:
Medical Insurance Plans
Dental & Vision Reimbursement
Long Term Disability Insurance
Employer Paid Life Insurance
Voluntary Flexible Spending Account (FSA)
Voluntary Health Savings Account (HSA)
401(k) Retirement Plan with 6% Employer Matching
Discretionary 401(k) Profit Sharing Contribution
Discretionary Bonus Program
WORK-LIFE BENEFITS:
15 Days Paid Time Off (PTO)
8 Full-Day Paid Holidays
2 Half-Day Paid Holidays
Family Medical Leave
Health & Wellness Reimbursement
Flexible Work Schedules when Feasible
Business Casual Dress Environment