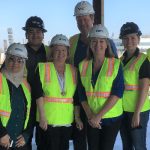 West Coast Code Consultants, Inc.
JOB DESCRIPTION:
Plan Review Engineer I is an entry level position. Will be responsible for reviewing drawings, calculations, soils reports, and other submittal documents involving single family, multi-family, and commercial construction to ensure compliance with applicable building codes, design standards, and structural requirements. Communicates orally and in writing to clients, applicants, and other staff. Typically reports to Senior Engineer, Supervising Engineer, or Plan Review Supervisor. May prepare valuations for permit fees. It is expected that continual training will take place and encouraged to continue to receive more ICC certifications.
This position is looking to be filled from either our San Ramon Corporate Office in San Ramon, or our Regional Office in South San Francisco Office in California.
MINIMUM QUALIFICATIONS:
Must possess a 4-year degree in engineering.
Having passed the NCEES Fundamentals of Engineering exam is preferred but not required.
Experience in structural design or plan review is not required but is preferred.
Must have basic knowledge of electronics, Microsoft Office Suite, and of Bluebeam software is preferred.
JOB DUTIES:
Plan Review
Be able to read plans and other construction documents.
Preforms structural reviews of construction documents in order to determine compliance with structural requirements and some local regulations.
Writes letters of deficiencies always being able to reference the pertaining codes and standards.
Letters will need to be detailed and accurate.
Often communicates with project owners and design teams about deficiencies and solutions.
Must keep accurate records and logs of plan review status and completion of projects.
May occasionally visit construction sites to see different phases and methods of construction.
Physical Demands
Most work will be completed in an office setting sitting or standing for long periods. Majority of work will be at a computer.
Occasionally there may be visits to construction sites that consist of may hazards and would require a high degree of attentions and caution.
Job requires the ability to drive.
It is encouraged to obtain ICC plan review certifications and continual education.
Make special efforts to promote good will in the office.
Performs other related duties as assigned.
SALARY:
Depends upon experience
TRADITIONAL BENEFITS:
Medical Insurance Plans
Dental & Vision Reimbursement
Long Term Disability Insurance
Employer Paid Life Insurance
Voluntary Flexible Spending Account (FSA)
Voluntary Health Savings Account (HSA)
401(k) Retirement Plan with 6% Employer Matching
Discretionary 401(k) Profit Sharing Contribution
Discretionary Bonus Program
WORK-LIFE BENEFITS:
15 Days Paid Time Off (PTO)
8 Full-Day Paid Holidays
2 Half-Day Paid Holidays
Family Medical Leave
Health & Wellness Reimbursement
Flexible Work Schedules when Feasible
Business Casual Dress Environment
West Coast Code Consultants, Inc. (WC3) provides equal employment opportunities to all employees and applicants for employment and prohibits discrimination and harassment of any type without regard to race, color, religion, age, sex, national origin, disability status, genetics, protected veteran status, sexual orientation, gender identity or expression, or any other characteristic protected by federal, state, or local laws. This policy applies to all terms and conditions of employment, including recruiting, hiring, placement, promotion, termination, layoff, recall, transfer, leaves of absence, compensation, and training.