Full Time
This position has been filled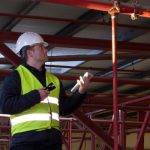 West Coast Code Consultants, Inc.
JOB DESCRIPTION:
West Coast Code Consultants, Inc. (WC-3) is currently seeking a qualified Fire Inspector II with a minimum of five years' experience. Fire Inspector II is an experienced inspection level position with candidates performing sprinkler and alarm inspections on new construction projects. Candidates will also, will be responsible for regular and annual fire and life safety inspections, and will coordinate and communicate with the fire marshal during the inspection process as needed. Applicants should have several years of experience performing fire inspections on significant projects.
This is a full-time position to work in-house with a jurisdictional client in the California Bay Area.
ESSENTIAL DUTIES: 
Inspections
Perform detailed fire and life safety inspections including fire department access, water supplies, fire-resistive construction, means of egress, and more.
Perform fire sprinkler inspections for new construction projects including sprinkler location, pressure tests, seismic bracing, sprinkler riser, connections, and life safety.
Perform fire alarm reviews to ensure compliance with the requirements of NFPA 72.
Complete final inspections for sprinkler, alarm, and life safety when jurisdictions are issuing certificates of occupancy.
Maintain accurate inspection records and reports.
Confer with design professionals, owners, and contractors to resolve fire code and life safety deficiencies.
Must be familiar with the California Building and Fire Codes, NFPA 72, and NFPA 13.
Physical Demands 
Some work will be outdoors in the elements. Work will take place in all extremes of weather.
Must be able to lift, climb, jump, crawl. Tall heights are often required. Job sites are often dangerous with many hazards. Special attention and care are required.
Make special efforts to promote good will in the office.
Perform other related duties as assigned.
Job requires the ability to drive.
REQUIREMENTS: 
Must have at least 5 years of fire prevention work experience or education in this field.
Must possess the ICC Fire Inspector II certification, or California State Fire Marshal equivalent.
Must have basic knowledge of electronics and Microsoft Office Suite. Must possess proficient writing skills.
A valid driver's license is required for this position.
SALARY:
$40 – $60 / Hour, Depends on Experience
TRADITIONAL BENEFITS:
Medical Insurance Plans
Dental & Vision Reimbursement
Long Term Disability Insurance
Employer Paid Life Insurance
Voluntary Flexible Spending Account (FSA)
Voluntary Health Savings Account (HSA)
401(k) Retirement Plan with 6% Employer Matching
Discretionary 401(k) Profit Sharing Contribution
Discretionary Bonus Program
WORK-LIFE BENEFITS:
15 Days Paid Time Off (PTO)
8 Full-Day Paid Holidays
2 Half-Day Paid Holidays
Family Medical Leave
Health & Wellness Reimbursement
Flexible Work Schedules when Feasible
Business Casual Dress Environment