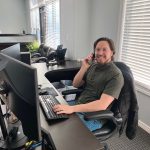 Website West Coast Code Consultants, Inc.
JOB DESCRIPTION:
West Coast Code Consultants, Inc. (WC³) is seeking motivated individuals to fill multiple building inspector positions. We are currently hiring Building Inspector I and Building Inspector II for service from our Lynnwood, Washington Regional Office. Compensation for relocation is available. These positions will be filled based on experience and credentialing.
Building Inspector I is an entry-level inspection position. It's expected that the ideal candidate has some knowledge of construction regulations; preferred one (1) year or more, and either has obtained ICC certifications or will quickly obtain additional credentials.
Building Inspector II is a mid-level inspection position. It's expected that the ideal candidate has knowledge of construction regulations; preferred two (2) years or more, and has obtained at least (1) ICC certification and will quickly obtain additional credentials.
Position duties include enforcement of construction-based regulations involving blueprint reading, framing, plumbing, mechanical systems, and performing field inspections of residential and commercial construction projects enforcement of construction-based laws and regulations. Writing hardcopy and electronic inspection reports for field inspections. Communicating with city/county building departments and with the public. This position requires initiative, integrity, and an ability to seek out guidance to obtain knowledge and identify training needs. Ability and drive to study construction regulations. Training is ongoing and progressive.
ESSENTIAL CREDENTIALS, EXPERIENCE, EDUCATION:
Required: High school diploma or GED; AND
Inspector I or Inspector II have combined education or experience in construction; building inspection; building plan review; or similar experience; OR
Enrolled in or completed an Associate Degree or technical certificate in engineering, fire protection, building construction, construction management or a related field; OR
Equivalent combination of experience and education that provides the applicant with the desired knowledge, skills, and ability required.
Inspector I or Inspector II have demonstrated knowledge of construction and regulations; and have and or can obtain ICC Credentials, either IRC/IBC Building within 6 months.
Preferred: Credentialed through ICC/ICBO/IAPMO.
Preferred at least one (1) ICC/IBC Certification. Preferred: either IRC Building or IBC Building.
Preferred at least 3 ICC/IAPMO certifications: residential or commercial inspector (i.e. Building, Mechanical, Plumbing).
Preferred: experience performing building inspections construction quality assurance, or construction management. Proficient blueprint reading, Bluebeam, regulatory knowledge.
Required demonstrated knowledge of electronic media and Microsoft Office Suite.
Must have a valid driver's license and good driving history.
REQUIREMENTS:
Field Inspections
Be able to read plans and other construction documents presented in hardcopy or electronic media.
Complete field inspections, both on commercial and residential projects for all phases of construction.
Write inspection reports, both paper copies and electronically with lab tops and tablets.
Communicate deficiencies with owners and builders. Be able to navigate code books.
Communicate with permit techs, other inspectors, and building officials for jurisdictions. Need to be adaptable to adapt to and enforce jurisdiction requirements, such as record keeping, reporting, and communicating.
Physical Demands
Most work will be outdoors in the elements. Work will take place in all extremes of weather.
Must be able to lift, climb, jump, crawl. Tall heights are often required. Job sites are often dangerous with many hazards. Special attention and care are required.
Job requires the ability to drive and maintain a good driving history.
May be asked to help with reviewing construction plans for code compliance.
Obtain and update industry-based credentials, state and local licenses, and certifications as needed.
Make special efforts to promote goodwill in the office.
Performs other related duties as assigned.
SALARY:
$75k -$87k,  Depends Upon Experience
BENEFITS:
By joining our team at WC-3, you can take advantage of our amazing benefits!
Medical Insurance Plans
Dental & Vision Reimbursement
Long-Term Disability Insurance
Employer Paid Life Insurance
Voluntary Flexible Spending Accounts (FSA)
401(k) Retirement Plan with 6% Employer Matching
Discretionary 401(k) Profit Sharing Contribution
Discretionary Bonus Program
15 Days Paid Time Off (PTO)
8 Full-Day Paid Holidays
2 Half-Day Paid Holidays
Family Medical Leave
Health & Wellness Reimbursement
Flexible Work Schedules when Feasible
Business Casual Dress Environment
West Coast Code Consultants, Inc. (WC³) provides equal employment opportunities to all employees and applicants for employment and prohibits discrimination and harassment of any type without regard to race, color, religion, age, sex, national origin, disability status, genetics, protected veteran status, sexual orientation, gender identity or expression, or any other characteristic protected by federal, state, or local laws. This policy applies to all terms and conditions of employment, including recruiting, hiring, placement, promotion, termination, layoff, recall, transfer, leaves of absence, compensation, and training.