Full Time
Remote
This position has been filled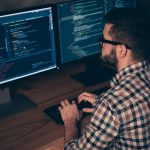 Website West Coast Code Consultants, Inc.
JOB DESCRIPTION:
eProcess360, a West Coast Code Consultants, Inc. (WC³) division, is looking for an organized, detail-oriented individual to join our team as a software project manager. You will work with a team of experienced developers and architects to oversee software projects from start to finish, managing and motivating team members, giving customer presentations, and writing project proposals. To be successful, candidates must have a good working knowledge of project estimation techniques and have the ability to motivate others, communicate clearly, and display strong decision-making skills.
This remote working position reports to and receives support from the eProcess360 division management team.
MINIMUM QUALIFICATIONS:
Typically requires a bachelor's degree in information systems, software development management, computer science, or a related discipline. Candidates may substitute equivalent experience in lieu of education.
Proven experience or strong conceptual understanding of project management and software development.
Good working knowledge of estimation techniques.
Excellent technical knowledge is a plus
Good leadership, decision-making, and organization skills
Strong attention to detail and multi-tasking skills
The ability to work independently or in a team environment
Experience in Microsoft Office (Word, Excel, and Powerpoint)
JOB DUTIES:
End-to-end management of potential projects and their parameters with clients, management team, and software developers.
Plan out the blueprints for software projects, including defining the scope, allocating resources, setting deadlines, laying out communication strategies, and indicating tests and maintenance.
Assemble and lead the project team. Participate in and supervise each state of the project. Ensure each project stays on schedule and adheres to deadlines.
When necessary, create a project budget and ensure the project adheres to the budget as closely as possible.
Determine and oversee consistent testing, evaluation, and troubleshooting of all products in various stages.
Track milestones, deliverables, and change requests.
Serve as a liaison to communicate information regarding changes, milestones reached, and other pertinent information.
Deliver completed eProcess360 software products to client jurisdictions, assist jurisdictional staff and departments with potential training support, and perform regular client check-ins on product performance.
Maintain strict confidentiality of jurisdictional client-sensitive information.
Follow general and detailed instructions as well as organizational policies and procedures.
Observe all laws, regulations, and other applicable obligations wherever and whenever business is conducted on behalf of the Company.
Use good communication and interpersonal skills to effectively interface with industry professionals.
Work in a safe manner in accordance with established operating procedures and practices.
Perform other duties as assigned.
SALARY:
$80K – $120K / Annually, Depending on Experience
TRADITIONAL BENEFITS:
Medical Insurance Plans
Dental & Vision Reimbursement
Long-Term Disability Insurance
Employer Paid Life Insurance
Voluntary Flexible Spending Accounts (FSA)
401(k) Retirement Plan with 6% Employer Matching
Discretionary 401(k) Profit Sharing Contribution
Discretionary Bonus Program
WORK-LIFE BENEFITS:
15 Days Paid Time Off (PTO)
8 Full-Day Paid Holidays
2 Half-Day Paid Holidays
Family Medical Leave
Health & Wellness Reimbursement
Flexible Work Schedules when Feasible
Business Casual Dress Environment
West Coast Code Consultants, Inc. (WC³) and eProcess360 provide equal employment opportunities to all employees and applicants for employment and prohibit discrimination and harassment of any type without regard to race, color, religion, age, sex, national origin, disability status, genetics, protected veteran status, sexual orientation, gender identity or expression, or any other characteristic protected by federal, state, or local laws. This policy applies to all terms and conditions of employment, including recruiting, hiring, placement, promotion, termination, layoff, recall, transfer, leaves of absence, compensation, and training.